Customised Courses
Drive performance across your business and select from our existing courses or benefit from customised training solutions!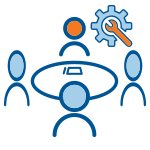 We can offer you a cost-effective training solution tailored to your organisation's individual needs. You can decide yourself when and where the course takes place, which topics are taught and who participates.
Our course portfolio ranges from standard to customised training solutions:
Professional courses
Soft Skill courses
Industry-focused workshops
Best practice sharing
Benefits of CTC Training
We can develop flexible training programmes tailored to meet your specific team/organisational needs using a mixture of taught and interactive training methods
We offer a variety of options, courses can be delivered in virtual format, face-to-face at our dedicated CTC training facility or at your premises
We have trained more than a thousand professionals over the past 20 years, so we know how to conduct training excellence
Our trainings are led by highly experienced professionals from our established network of industry experts with a special interest in training.
Find out more
Have you identified an area of development you need to address?
To discuss how CTC can support you with your training needs, contact us on training@ctcresourcing.de and we can recommend an experienced trainer from our established network of industry experts.
What our clients say about our courses
Drug Development Process – customised workshop
"The training day went hugely well, almost exactly as we wanted. Big thank you to the trainer for facilitating the day and connecting all the dots"
"Good refresher course, exactly the right length, especially appreciated the flexibility and room for 'exercise' discussion"