This training course has passed.
Introduction to Clinical Research
Basel,
November 17, 2021 @ 9:00 am

-

5:00 pm

CET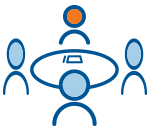 This course offers a perfect introduction to understanding the complex process of drug development and most relevant tasks and responsibilities within the clinical research setting.
WHO SHOULD ATTEND?
The course is designed for those new to or with little experience in clinical research, those in supporting roles and departments or those seeking an overview or needing basic training of the clinical research process, regulations, terminology, acronyms, roles and responsibilities within clinical research.
COURSE OBJECTIVES
With this course you will:
• Understand how drugs are developed and who the key players are in the process
• Become knowledgeable about the terminology used in the clinical research environment
• Find out what rules, guidelines and laws are essential
• Learn how a clinical study is set up and performed
• Become familiar with and understand how to handle the documentation required in clinical research
COURSE TOPICS
• Developing a drug in the pharmaceutical industry – from the idea to the product you buy in the pharmacy – and the contributions of clinical research
• What is a clinical study – the four phases of clinical development
• Who are the key players and what are their roles in the process
• The language and abbreviations the clinical research team are using every day
• What are the rules, guidelines and laws that need to be followed and why are they so important
• How is a clinical study performed – from preparation over conduct to termination of a study
• A key to a successful study: the master study file. What documents are essential and how are they handled, filed and archived?
COURSE LEADER
Tamara Schärer (MSc, ECPM), Managing Director, SRS Schärer Research Services, Basel, Switzerland. Ms Schärer started working in the pharmaceutical industry as Clinical Research Scientist in the field of CNS for Sandoz in 1996. After the merger to Novartis, she became the Therapeutic Area Coordinator for all Phase IV studies in Oncology. In 1999 Tamara moved to a small CRO as an International Project Manager and later trained as a GCP Auditor to become Quality Manager Clinical Operations. In 2002, she founded SRS Schärer Research Services.
LEARNING METHODOLOGY
The combination of trainer interaction, information sharing and opportunities for conversations and discussions of the theory will help ensure you have a comprehensive understanding of the course content.
CONTINUING EDUCATION

This course is accredited by the Swiss Association of Pharmaceutical Professionals (SwAPP) and the Swiss Society for Pharmaceutical Medicine (SGPM).
FEE
Registration Fee: CHF 850.00 + 7.7% VAT
15 % reduction for members of SwAPP and SBA
Special fees for CTC employees
Special rates available for PhD Students, group discounts available, please contact training@ctcresourcing.de
The fee includes course documentation, refreshments, lunch and a course participation certificate.
Payment: After registration you will receive confirmation and an invoice with instructions on how to complete the bank transfer.
Full prepayment is needed prior to the course.
CANCELLATION POLICY
• Cancellations received more than 14 days before course: 100% refund less bank charges & cancellation fee of CHF 50.00
• Cancellations received 7-14 days before the course: 50% refund
• Cancellations received 7 days before the course: no refund
In case of no show, no refund will be made.
COURSE FLYER
CONTACT
If you have NOT received an official confirmation 7 days after registering, please call CTC at 0041 61 695 88 66 or send an email to training@ctcresourcing.de.
THANK YOU!